So this is a long neglected blog. We should play catch-up. In the meantime, it's National Poetry Month. And when we meet for our regular meeting this month, given the fact that is IS National Poetry Month and that we haven't selected a book for the month I think sharing some poetry favorites would be highly appropriate.
Don't have anything you love? May I suggest that for the remainder of April at least you take a listen to the
Writer's Almanac
aired daily on NPR read by Garrison Keillor. You can just click the link, but if you know you won't remember you can subscribe. I grew up listening to him on Prairie Home Companion and his very voice is a comfort to me so I know my opinion is not an unbiased one, but there's a good chance that you will love him too. On Prairie Home Companion he would always do the News from Lake Wobegon and my mother always said he sounded like he was sitting right there next to you, telling the story. It's a very midwestern show (which of course makes me a bit biased) but with a lot more Scandinavian heritage in it, as it is set in Minnesota. Anyway, neither here nor there since I'm not really talking about Prairie Home Companion, but the Writer's Almanac which is a lovely little 5 minute show about significant literary and cultural bits of history and he ends by reading a poem. There is a Carl Sandburg poem I was hoping he'd featured, but he didn't, but when I did the search I found
this episode
which references a poet influenced by Sandburg and she, oddly enough, lived in the town where I went to high school (let's hear it for those hospitable Hoosiers!--well ok, she was originally from Germany). And the poem he reads in the episode is not from the girl he inspired or from Carl Sandburg who is known for his Chicago Poems, it IS set in Chicago. For those who don't know, Carl Sandburg was Poet Laureate of Illinois and also a Lincoln Historian. (Gwendolyn Brooks, another author/poet I have enjoyed who too, was Poet Laureate of Illinois can be heard in a 24 minute interview
here
and you can read one of my favorite poems of hers--a timely spring-ish themed one--
here
). Sandburg retired to North Carolina and there's a
National Park
there where you can visit and tour his home. Daddy and I went on our way to Parris Island for a friend's graduation from Marine Boot Camp, and we felt like we'd wandered into some quaint and quiet version of our own home. So many things were so familiar, right down to the kitchen stool and the piles and piles of papers.
Carl Sandburg
Here also is the Poetry Foundation where you can find a myriad of poems,
Lest ye feel disappointed that you don't get to hear a real poet read a real poem here is one of my favorites from Billy Collins who was the US Poet Laureate 2001-2003 and his dry humor, underlying seriousness and everyday accessibility (most more than this one) is a favorite in our house.
Litany
The Country
The Lanyard
If you find you love these here is an hour and a half long video:
An Evening with Billy Collins -- Point Loma Writer's Symposium By the Sea 2013
. Billy Collins also has a website in conjunction with the Library of Congress where you can find more poems:
Poetry 180: A Poem a Day for American High Schools
, Which includes a poem by the girl mentioned above,
Lisel Meuller
who was inspired by Carl Sandburg and lived in Evansville, Indiana, and wrote a poem,
Immortality
, about the moment in the kitchen, when the whole Castle awakens with Sleeping Beauty.
Sandburg's Lincoln's History
And then on a more serious note, both in love and poetry here is some Carl Sandburg. Standing in a Fairfax Library last week, perusing a poetry display that looked like it had been selected personally by or for my father, complete with a book of Dog Poems, one of Garrison Keillor's Good Poems collections, some Robert Frost, Carl Sandburg and Ogden Nash, as well as Sylvia Plath and the classic: One Hundred and One Famous Poems, I read a poem of Carl Sandburg's about
Lincoln and his gloves
. Him being a Lincoln Historian I am inclined to believe it's true, but who knows. It was quite something though. While that poem was quite something it is not the one I originally went searching the Writer's Almanac for, and although it is not read by Garrison Keillor, it is a favorite of mine from many years past . . .
At a Window
Give me hunger,
O you gods that sit and give
The world its orders.
Give me hunger, pain and want,
Shut me out with shame and failure
From your doors of gold and fame,
Give me your shabbiest, weariest hunger!
But leave me a little love,
A voice to speak to me in the day end,
A hand to touch me in the dark room
Breaking the long loneliness.
In the dusk of day-shapes
Blurring the sunset,
One little wandering, western star
Thrust out from the changing shores of shadow.
Let me go to the window,
Watch there the day-shapes of dusk
And wait and know the coming
Of a little love.
One he's most famous for. And in his own handwriting. I am so sad that handwriting is becoming a thing of the past: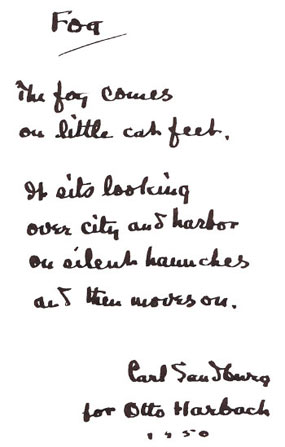 And just because it suits me . . .
And as they fade from glory to memory here is a returning nod to the daffodils of the season as well the strength and foundation of a single memory.
Click: